Pastoral Statements
Our Bishops
In the spotlight
Ms. Betty Ndulo has bed farewell to the Catholic Secretariat at ZEC after working for many years  in the Education Department.  In her words of  gratitude, she says she was grateful to all the  members of staff  both present and those who have left the Secretariat for the time she shared with them. The staff were like a family to her.
Sr. Veronica Kapopo  has paid gratitude to the members of staff of  the Pastoral Department and all the staff at ZEC  for the support rendered to her during her stay at ZEC as Catechetical National coordinator. Sr. Kapopo goes to the Adminitration as Superior General of her Congregation of the Handmaid Sisters.
Laudato Si: On Care For Our Common Home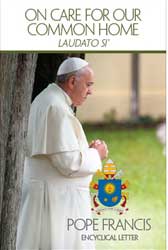 On Care for Our Common Home (Laudato Si') is the new Encyclical written by Pope Francis and  addressed to "every person living on this planet" for an inclusive dialogue about how we are shaping the future of our planet. Pope Francis calls the Church and the world to acknowledge the urgency of our environmental challenges and to join him in embarking on a new path. This encyclical is written with both hope and resolve, looking to our common future with candour and humility.